Find a Southwest Wisconsin Bed and Breakfast Inn
---

Our current membership consists of a diverse range of Country Inns, Cabins and Bed and Breakfasts. Please contact any of our members directly to make a reservation.
Amil's Inn
amilsinn.com
608-435-6640
Wilton, Wisconsin
Amil's Inn Bed & Breakfast in Wilton Wisconsin, is nestled in the Kickapoo Valley minutesfrom the Elroy-Sparta Bike Trail, Wildcat State Park and the Kickapoo Valley Reserve.
Brambleberry Country Inn and Winery
brambleberrybandb.com
608-525-8001
Taylor, Wisconsin
Brambleberry Country Inn and Winery is a bed and breakfast like no other. Warm hospitality awaits, along with your choice of five beautiful guest rooms, some with fireplace and whirlpool. Brambleberry is the only Wisconsin inn that has a winery and a visitor tasting room onsite. We also have a restaurant license so we may serve food other than breakfast. Visit the Great River Road wineries and stay with us.
Our 160-acre organic farm supports purebred registered Scottish Blackface sheep and Scottish Highland cattle, along with pigs. Our weekend full-farm breakfast always includes at least one item from our farm. Enjoy our private nature trails, farm and winery tours, DVD movies and complimentary snacks. Pizzas and snacks are available in our winery. Check our schedule for winter Saturday dinners, murder mystery dinners and food and wine pairing events.
Near other wineries, breweries, bike trails, antiques, Amish farms, canoeing, ATV trails, hiking, scuba diving, skiing and snowshoeing. A 5-star quality Trip Advisor property.
Rates $99 to $189. We have an adult atmosphere. Please no children under 12.
Brewery Creek Inn
brewerycreek.com
608-987-3298
Mineral Point, Wisconsin
Brewery Creek, gives you two unique experiences to choose from. There are five luxury rooms at the Inn and Brewpub building, or three private suites in one of our historic stone cottages on nearby Shake Rag Street. REMEMBER to check out our specials!
Cameo Rose Victorian Country Inn
cameorose.com
608-424-6340
Belleville, Wisconsin
Cameo Rose: Madison WI bed and breakfast genuine getaway on 120 picturesque acres of woodlands, valleys, trails, pond, waterfalls and flower gardens along the new Badger Bike Trail, minutes from vibrant Madison and the University of Wisconsin, New Glarus - Little Switzerland, and Mt Horeb - Little Norway.
Four Gables B&B
bedandbreakfast.com
608-788-7958
La Crosse, Wisconsin
This Queen Anne home was built in 1906 by Carl and Clara Munstock with some reclaimed lumber from other buildings on the farm. It is believed that a smaller house was lived in while this very large, impressive brick home was being built. The Munstocks made their money, at the time, from strawberries. The house and farm remained in the Munstock family until 1981 when the Jorgensens saw great potential in it and set out to painstakingly restore a very deteriorated gem. What was once a 1930s apartment in the upstairs is now the three bedrooms used for the bed and breakfast plus a library. Each bedroom is artfully decorated and furnished to make not only a romantic atmosphere, but also a homey and welcome ambiance for guests. Great pride is taken in details.
Franklin Victorian Bed and Breakfast
franklinvictorianbb.com
608-366-1427
Sparta, Wisconsin
Award-Winning, Experience Warm Sparta Tranquility at our Bed and Breakfast. Our inviting bed and breakfast accommodations and abiding sense of hospitality promise welcome, rest, and renewal to one and all as a refreshing change from typical hotel lodging. The inn is located in the heart of the Hidden Valleys of Southwest Wisconsin, a fun, romantic getaway so quiet and beautiful. Our celebrated rivers, drift-less rugged hills, scenic farms, tranquil back roads, bike trails, crystal air, and friendly people combine to make Sparta the ideal place to be warm… be welcome… be at home.
Grapevine Log Cabins Bed and Breakfast
grapevinelogcabins.com
608-269-3619
Sparta, Wisconsin
Our cabins are set along the pines on our quiet farm. The private cabins are rustic and romantic. You can enjoy time on the wide porches, or walk the mile long trail threw the woods. Ruby our dog will greet you. Enjoy a farm breakfast at the main house.
Justin Trails Resort
justintrails.com
608-269-4522
Sparta, Wisconsin
Dream destination weddings in 1919 timber frame barn. Stay in log cabins or 1920 farmhouse suites. Pet-friendly with 200 acres of Driftless terrain. Snowshoe, skijor, skate/xc ski and sledding. Soak away winter fun in a steamy whirlpool by a toasty fire. Certified Travel Green Wisconsin Inn.
Rainbow Ridge Farms Bed and Breakfast
rainbowridgefarms.com
608-783-8181
Onalaska, Wisconsin
Your country farmhouse getaway just a stones throw from La Crosse. The comfortable, serene atmosphere at Rainbow Ridge Farms will renew your spirit while you take a break from the hustle and bustle of your daily life.
Silver Star Bed and Breakfast Inn
silverstarinn.com
608-935-7297
Spring Green, Wisconsin
The Silver Star B&B Inn can be described as elegant but casual and is without a doubt interesting and out of the ordinary. Located on a bucolic 340 acre estate, it is perfect for a quiet getaway, intimate wedding, reunions, retreats, or to simply connect with the great outdoors.
Valley Springs Farm B&B
valleyspringsfarmbb.com
608-495-1096
Reedsburg
Valley Springs Farm Bed & Breakfast takes you out to the tranquility of the farm where the only noises you'll hear are the sounds of farm animals and an occasional tractor. Each spring and summer, sand-hill cranes nest in our pasture and welcome folks with their morning call. Your innkeepers/owners, Don and Dorothy Harms, welcome you to stay with them at their home and enjoy a relaxing getaway from the hustle and bustle of everyday life.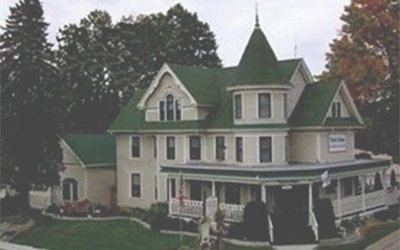 Westby House
westbyhouse.com
608-634-4112
Westby, Wisconsin
Return to a Simpler Time...to a bed & breakfast that combines the right levels of history, comfort, and hospitality. Steeped with replete period detail, ...to restful and relaxing accommodations. ...modern conveniences that makes them a point of difference.